Antitrust authorities approve joint venture between Brose and Volkswagen
Global player for seat systems: Antitrust authorities approve joint venture between Brose and Volkswagen
Coburg / Wolfsburg, 6 September 2021. The antitrust authorities have issued all of the necessary approvals for the planned joint venture between Brose and Volkswagen, paving the way for the company to begin work as scheduled in early 2022. Brose Sitech intends to become a leading global supplier of seat systems and interior solutions.
Seat systems and connected interior solutions
Brose and Volkswagen signed an agreement to establish a joint venture in spring. The company will work on the development and production of complete seat systems, seat structures and components as well as connected interior solutions. The objective is to become a key global system supplier. Brose will own a one-half interest in Volkswagen subsidiary SITECH. Brose and Volkswagen will each hold a 50 percent share of the planned joint venture. The parties have agreed that Brose will take over the industrial leadership and consolidate the joint venture for accounting purposes.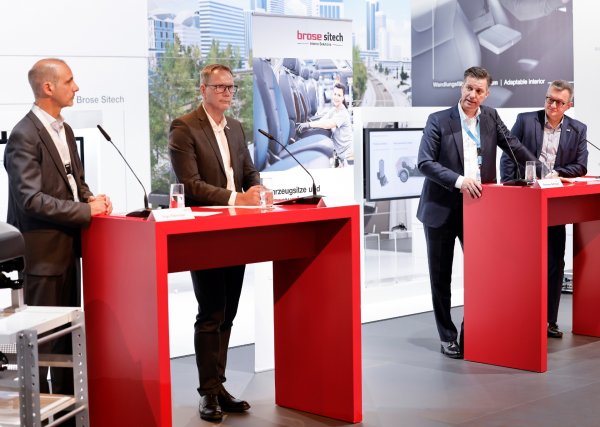 Independent supplier of complete seats
The portfolios of the participating companies complement each other perfectly. SITECH has extensive expertise in the development, assembly and logistics of complete seat systems. As a leading supplier of seat structures, Brose is bringing its systems knowledge and years of expertise in manual and power adjusters as well as comfort components to the table. Brose Sitech wants to expand the existing business with the Volkswagen Group and also act as an independent seat supplier for other car manufacturers.
Flexible, personalized design
Seats are a key differentiator in interior design. They have a major impact on the user experience in terms of comfort. E-mobility, autonomous driving and cross-system connectivity are changing the requirements for the interior of tomorrow. The vehicle interior is increasingly developing into a mobile living space. New, flexible options for personalized design are becoming almost as important as comfort and safety.
Press contact
Brose Fahrzeugteile SE & Co. KG, Coburg Volkswagen Group Components
Katja Herrmann Ariane Kilian
Manager External Communications Director Communications
Phone +49 9561 21 3430 Phone +49 5361 9 76854
katja.herrmann@brose.com ariane.kilian@volkswagen.de
SITECH Sitztechnik GmbH
Marta Skowrońska
External Communications
Phone +48 795 160 922
marta.skowronska@pl.sitech-automotive.com